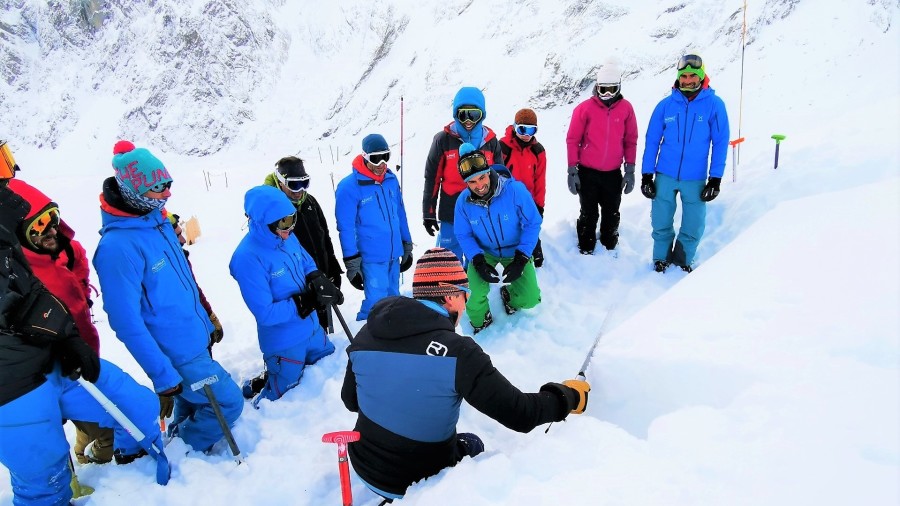 Our guides and their expertise
You might not think so, but ski slopes have a lot in common with human beings; like us, they're constantly changing. This means that one day you might be able to ski there and the next day it's a no go. This depends on lots of different criteria and just because you can't see the danger doesn't mean it's not there. What may look like a stunning slope might rest on a thin layer of snow that could ultimately put you in danger. These criteria will ultimately be judged by your guide when you're out on the slopes and they'll be armed with all the necessary information to make such a decision: A thorough knowledge of the day's weather, levels of precipitation and wind directions. They will use it, and their experience to make the best and safest choice possible.
This also means that his counting on you, and the other skiers respecting and following his wishes. So, please don't asked them to change their itineraries once they have explained them; our guides, like you are passionate and love guiding you through a great experience, but they also have to put safety first. Even though risk-free doesn't exist, we want you to have a great time in the best possible conditions and thank you in advance for respecting your guide's wishes.
We'll lend you a digital avalanche transceiver, shovel and probe free of charge on all of our off piste skiing and snowshoeing trips.
At the start of every trip the guides will take you through how it works, so you'll be able to use it properly if you need to.
Airbag backpack
On lots of our trips, and especially those that involve off-piste skiing our guides use the new airbag backpack ARVA Réactor made by our partner brand ARVA. Because we want you to be as safe as possible on the slopes, we've made them available to hire at a great price on all of our trips; just €15 Euros a day. To be reserved on our site